Some parents and caregivers can fall into the trap of assuming that manga is exclusive to adult readers, but the thing is, there are mangas for all ages, and believe it or not, there are even mangas for kids that are less than 10 years old. 
For the younger kids, it is recommended to welcome them to the world of manga once they start being able to read, the image-enhanced stories would help them a great deal when it comes to comprehension. 
Usually mangas are read from right to left, the same was as a book is read. 
A lot of kids do in fact prefer reading mangas that were made for their age, because it is easier for them to follow the lie of events when its enhanced with the imagery factor, it is a beautiful learning opportunity that kids need to explore. And if you want to explore some of the best mangas for kids, here's a list to get you on the right track. 
True otakus always have anime products. Check out the anime merchandise at the lowest prices.
THE BEST MANGA FOR KIDS IN 2022
Splatoon by Sankichi Hinodeya
This manga is based on a third-party shooter video game, where the player has to scatter as much paint as they can in order to mark their territory and explore new areas, it is sort of like a wild paintball game but on a more serious scale. 
This manga may make more sense to those who did play the game, but overall, it still is an enjoyable and colorful manga that can be enjoyed by anyone at any time. 
Yo-Kai watch Noriyuki Kinishi
Yo-Kai Watch is a well-known anime/ game/ manga/toy franchise all over Japan, in fact, it is accessible to English-speaking readers as well.
The story circles around our human friend Nathan who owns a special watch that allows him to see supernatural beings that others cannot see, Nathan however, does more than just see them, he approaches them as well, and together, they find solutions to many problems. 
This manga will strike you as a bit familiar if you've already seen Pokemon, but in Yo-Kai Watch we have spirits that are referred to by the word "Yokai"
Hearts of the Kingdom: Final Mix, by Shiro Amano
Chain of Memories: Kingdom Hearts, by Shiro Amano
Hearts of the Kingdom II, by Shiro Amano
Hearts of the Kingdom/358/2 days, by Shiro Amano
All these delightful books and mangas are based upon. Video game Kingdom Hearts, in which the hero would live the dream of every kiddo ut there, which is going on a quest side by side with the Disney characters such as Mickey Mouse, Donald Duck, and Goofy…. Are you kidding me?? I am an adult and I would love to experience that. 
This is the sort of book and manga that would spark the spirit of true gamers. And for those who already played the games and seen the world, the manga would make more sense to them. And here's where it gets even better; there are novels besides the manga; Kingdom Hearts, Kingdom Hearts: Chain of Memories, and Kingdom Hearts II. And when you think that kingdom heart is done, let me tell you that there is an artwork book as well;  Shiro Amano: The Kingdom Hearts Artwork.
Happy Clover Happy, by Sayuri Tatsuyama
Are you ready for this tsunami of cuteness to hit you? Well, keep up with me then… in this lovable manga we have Clover, who lives with a large group of bunnies ( and a hare) inside the calmness of the woods, oh, and there's a flying squirrel too. They regularly go to a tree school that is run by a wise owl who's called professor hoot. 
Our group of friends is curious, and they love to explore the untamed land behind the territory of their forest home, and in the pursuit of that, they would get into some trouble. This children's manga will make your kiddo fall in love with reading and see the beauty of stories and the values they can teach.
Fluffy, Cinnamoroll Fluffy, by Yumi Tsukirino
Cinnamoroll is a super cute puppy that can fly, he's got a tail that looks much like a cinnamon roll, hence the name. 
It was developed by the company Sanrio, which makes him sort of having a hello kitty kind of atmosphere. Cinnamonroll lives in a café and just like any other great puppy, he's got a handful of fun friends that he likes to hang out with, well if you think that the name Cinnamonroll is interesting, wait till you hear his friends' names; Chiffon, Espresso, Cappuccino, and Baby Milk, there's a dark cloud that is named Cavity, it often scares them. 
Chi is an abandoned kitten, it was adopted by a more or less strict family that doesn't allow pets in the house.. well, chi doesn't mind very much, its a kitten after all, and most of the time she does kitten stuff, like chasing the wind, being distracted by a new object or falling asleep in the middle of playing. 
At the beginning, we will get to see some witty humor, as the word chi means "pee"… overall, this is a really enjoyable manga that your kiddo will fall in love with.
Young Miss Homes by Kaoru Shintani
Young Miss Holmes is more or less a kid's version of the all-time classic Sherlock Holmes stories, ( its available only in a digital form) 
In this alternative version of Sherlock Holmes, we get to see his 10-yard old niece as the center of attention, she will solve the mysteries that other grownups will fail to solve… and with the help of the two maids who have many non-domestic talents, our team is unstoppable. 
Shintani's stories are of very good quality, both verbally and imagery side, and young miss Holmes is a very enjoyable read for your kids, and perhaps to you as well, if you feel like you could be a 10yo for a while
Cowa by Akira Toriyama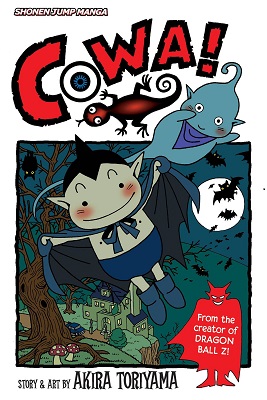 This one was made by Dragon Ball's maker so buckle up and sit tight… this one-volume tale tells the story of the last 3 terrifying creatures ever, our friend Paifu is half koala half-vampire, you can say that he has the best of both worlds, and he transforms into a raging koala whenever a cross enters his sight. 
Arpon is a monster-like boy who always loses in battles which pick, and Jose is a ghost that farts when he's stressed. 
Our trio takes a journey to a dangerous magical mountain, they trick a former sumo wrestler into helping them and along the way they meet different magical creatures, dragons, and monsters. This manga is a roller coaster of excitement, wonder, and humor, and it is for sure one that your kiddo will like.
Yotsuba by Kyohiko Azuma
Yotsuba Kowai is a green-haired, curious fiver years old girl who lives with her adoptive father and is filled with energy at all times. 
Like any five-year-old girl, Yotsuba Kowai is very curious and is filled with excitement and energy to explore the world, play with her friends and make the most of a day, and when she wants to do something… no one can really stop her. 
She rides bicycles, plays with the neighbors, runs a lot, and is always keeping a big smile that decorates her face. 
Yotsuba by Kyohiko Azuma is a domestic comedy, it has a simple, linear style which makes it very enjoyable to children. And the story itself is very relatable to any kiddo… it will for sure inspire any kid who reads it to go out and play as much as they're allowed to, just like Yotsuba.
Barakamon by Satsuki Yoshino
It's the slick, Japanese style, against the crafty locals! Seishuu Handa, a young lad who is a calligrapher prodigy, makes a career-ending mistake and vanishes quietly to an island in order to contemplate his art and wonder what's next. 
Rural life is not the easy idyll he thought it would be, though: kids on the island use his house as a hangout, and everywhere he goes, one little imp tags along.
Plus, the locals are savvy in their own way, in spite of their strong accents and parochial lives. This is a nice, charming manga, and the prequel, Handa-Kun, is also a great read for all ages. Hence proving it to be the best children's manga.
Hikaru no Go by Takeshi Obata and Yumi Hotta
Well, the fact that this manga was pulled off by the Takeshi Obata ( Death Note artist ) kind of raises your expectations for this one, and for a good reason as well. 
The story circles around a Slacker's sixth-grader Hikaru Shino who gets possessed by an ancient spirit, he then feels like life is treating him differently, he suddenly finds new meaning in everything and is ready to enjoy the wonders of life, the spirit is a Go master, and Hikaru knows nothing about Go. But the Sai pushes him to play anyway. Well, get to meet Akira Toya, a brilliant Go player who will soon catch the attention of our friend. 
It's a 3-volume series that is full of excitement, friendships, complications, and rivalry. It's absolutely a great read for kids, teenagers, and grownups all alike.
Dinosaur Hour by Hitoshi Shioya
This one will take you back to the Jurassic era, well if your kiddo likes dinosaurs, then a manga about dinosaurs would be just the thing, it's a learning opportunity about these instinctive species, each volume offers a great deal of educational value about the featured Dino.
But this manga isn't all about education, it's a story after all, and the ending will love your kids wanting more and more to read, there are more than 200 pages for the young readers to enjoy and discover the value of reading the great joy of it. 
It's a series of stories about different species of dinosaurs, ranging from dimetrodon's to triceratops, velociraptors, Baryonix…, and many more, we will see these gentle beasts as they travel in packs, escort their babies, sometimes even play together or run in fear of ghosts. The character traits of the Dinos are just brilliant and vibrant and the storytelling is very direct and simple. Overall, Dinosaur hour is an absolutely great read for young readers to enjoy the wonders of that hidden era.
Chocomimi by Konami Sonoda
This manga is all about fashion, it's a mashup of opposites, but in a way that makes so much sense, the young readers will look at two best friends who have distinct personalities. 
If your kid has a fashion-forward personality and loves colors and all that is exuberant, then this read will be delightful for them, its paved with fashion tips and ideas that are ideal for pre-teens, It contains simplified guides and recipes that would make so much sense to them. 
It will give your young readers a sense of style and a simplified guide on how fashion goes together, and how to create harmonious colors from scratch. Well, this one wasn't made for everybody, but if your kiddo likes fashion and colors, then this one is for them. 
Niju Oranda Go by Anfernee Robinson
This manga was announced in a less traditional way when author Anfernee Robinson went to his Twitter and shared the following; " Jumping double-dutch was my life when I was a young girl. My friends and I would get to school early, just so that before school began, we could jump a log."
And the fact that there aren't so many sports mangas that focus on black girls, it is nice to have this manga that combines the beauty of storytelling, some exuberant imagery, and an enjoyable line of events. It will inspire your young reader to try some sports, it will teach them a great deal about teamwork, and most importantly, it will be an enjoyable read. 
Children of the Sea by Daisuke Igarashi
Well, for those teenagers who grew up reading and loving scary books, but lately can't find anything appropriate for them, this one is for those teenagers, and of course, everyone else.
It all begins with Ruka, a girl who can see ghosts in the water, and because her father works at an aquarium and takes her with her, she made friends with some breath taxingly beautiful creatures that mayo may not be among the living. 
Our Ruka will meet two friends who will be partnering with her in some really fascinating adventures that of course… include ghosts in the water. And In the meantime, a global catastrophe is arising: fish are disappearing from the seas in a bizarre way. 
Sailor Moon by Naoko Takeuchi
Sailor Moon has been a sensational backbone to the world of anime, in fact, many of us were introduced to the amazing world of manga and anime in general because of Sailor Moon, and the story continues in this manga as Usagi tries to balance her life at school, and she alters ego, as she tries to fight evil, it is a story loved by all people of all ages. 
And you'd be pleased to know that this version is a flawless transaction to the manga. 
We follow Usagi in her journey from middle school to high school, as she goes on a quest in the pursuit of the silver crystal.
This manga did a great job in keeping the same quality that we know and love from the original sailor moon.
Live in the moment and buy products anime in
Sailor Moon merchandise
today at the lowest price and benefit from the free delivery
Discover Sailor moon merchandise:
Spacepop by Corey Mickel and Sebastian Riera

It all takes place in a space opera, where so many events happen in so little time; family drama, wars between nations, cosmos…we follow Joshuaa, who is the heir of a family that stretches back in time for thousands of years, and carry a dark past with it. 
We will get to see the suspense and tightness as Joshua flies into outer space with a crew that has a very poor sense of professionalism and ill communication. 
Well, for high schoolers whose imagination is always in the stars, who love star-wars, this one can be a great addition to further explore the world of space fantasy, spacepop will deliver all that and more, it is about dreams, heroes, sacrifices and common sense. 
Dragon Ball Z by Akira Toriyama
Dragonball Z is perhaps the best anime and manga to ever exist, o at least, one of the all-time greats, children, teenagers, and adults, who have all loved and enjoyed this sensational universe of martial arts. 
In this manga, we will follow the monkey-tailed boy Goku and his friend's krill and bulimia in the quest the pursuit of the famous dragon balls that give them the power to make 3 of their wishes come true.
Discover Dragonball Z merchandise:
Stars Wars: The Legend of Luke Skywalker by Akira Fukaya
Well, for kids who want to dive into the world of Star Wars but don't know where to Strat, this manga can be quite the thing they're looking for, it is the perfect introduction to the star-wars universe that's still revealing new content each year. 
Natsume's Book of Friends Volume 1. By Akira Fukaya
This manga is more on the spiritual side of the spectrum, we follow the story of a 15-years old boy Takashi Natsume who is tormented by the fact that he can see ghosts or  "youkai,", and all he wants is to live a regular life, just like anyone else. But the ability that he inherited from his ill grandmother prevents that. 
His grandmother had given him a mysterious book, and the fact that he can see ghosts close to the book only makes him a reclusive teenager. The troubled teen is soon branded and believes that he is more special than what people think of him.
Definition of Manga
Just what it is. Manga refers to a broad variety of graphic novels from Japan. And they certainly aren't all the same.
The distinction between Manga and Anime
Two distinct things are manga and anime, although they are visually similar and some of the most popular manga series have become anime (see: Sailor Moon and Dragon Ball Z). Manga refers generally to graphic novels and anything printed, while anime refers to TV or movies.
5 Types of Manga
Five main types of manga exist. Shonen, shojo, seinen, josei, and kodomuke, each based on gender and age, broadly speaking.
And a number of sub-genres are there. I thought that manga, consisting of superheroes, antiheroes, and a lot of action, was like most of the comics I've seen and targeted mostly at boys. Some titles are sweet, some are goofy, some are romance-based, some romance-based titles are between boys, some are between girls, although that is true of some of the most popular manga.
Shonen Manga
Shonen manga is targeted at youngsters and teenage boys. Shonen manga is the most common and prevalent form by far, and boys and girls alike enjoy it. It usually features boy characters who are either a) fighting or b) funny or c) both. Naruto by Masashi Kishimoto, Dragon Ball by Akira Toriyama, Bleach by Tite Kubo, Tsugumi Ohba's Death Note, and Takeshi Obata are the main names.
Shoujo Manga
Tween and teen girls are the subjects of Shoujo manga. Sailor Moon by Naoko Takeuchi is perhaps the most popular shoujo series, with its schoolgirls-turned-superheroes. The common romance-centered stories rely heavily on stereotypically girly stereotypes such as Prince Charming, the bad guy, and love triangles, while fantasy and heroes exist.
Kodomuke Manga
The manga Kodomuke is for younger kids. These tales are sweet and simplistic. Fujiko F. Fujio's Doraemon is a classic. And we like the more recent Konami Kanata's Chi's Sweet Home, about a missing cat (not least because it's written left to right).
It's your time to tell which one of the best children's manga you have already enjoyed reading and which ones you are planning to read in the future.
over 1000+ products are now available in
anime shops
at a low cost.