Crossovers are a significant event in any TV-viewing family. Everything from The Jeffersons meeting The Fresh Prince of Bel-Air to Jimmy Neutron arriving in The Fairly Oddparents has been a memorable event to every child's mind and an excellent revenue grab by the studios arranging them.
But, crossovers are not precisely restricted to Western viewers. Japan has been known to dabble in the trade a bit with this list, in particular, focusing on the surprisingly interconnected worlds of everyone's favourite anime heroes. Let's run down a handful of the anime crossovers you won't believe actually happened.
Aah, You still ache for the old times, despite your best efforts to deny it. When anime was at its peak in the 1990s, big studios would periodically release some wildest anime world crossovers. Currently, anime crossovers are more of a dying sub-genre. These may be conventional rom-com made even better by the presence of all your favourite shoujo actors, or they could be action-packed miniseries featuring the best shounen characters. A few mangas have lately imitated this practice. After a thorough investigation, the best anime crossovers have been selected and are probably worth your time. The following is a list of 14 of the greatest crossover anime.
14 Best Anime Crossovers list
1: Digimon Xros Wars (2012)
Digimon Xros Wars is the sixth anime series in the "Digimon" franchise and is also referred to as "Digimon Fusion." The series' three-season grand finale depicts an attack in which all of our heroes are encircled by wicked forces. At this point, the major characters of this series are being rescued by the heroes from all five "Digimon" series. An epic struggle between good and evil occurs as each hero employs unique, distinctive abilities.
2: Yu-Gi-Oh!: Bonds Beyond Time (2010)
The main characters of "Yu-Gi-Oh!," "Yu-Gi-Oh! GX," and "Yu-Gi-Oh! 5Ds," Yugi Mutou, Yusei Fudou, and Yuki Judai, are united in the ultimate crossover film, "Yu-Gi-Oh!: Bonds Beyond Time." The three heroes must time travel and team up to battle Paradox, a villain that jumps from one period to another and causes havoc throughout the entire chronology. With the return of fan-favourite character Yugi Mutou, this installment will bring back some serious memories for those following the "Yu-Gi-Oh!" franchise since the beginning. Aside from that, this film has a fascinating time-travel plot that will keep you entertained. An absolute must-see for all "Yu-Gi-Oh!" enthusiasts!
3: Grendizer, Getter Robo G, Great Mazinger: Kessen! Daikaijuu! (1976)
You're probably hearing about the old anime film "Grendizer, Getter Robo G, Great Mazinger: Kessen! Daikaijuu!" for the first time. Mecha once had complete control over the anime world, with famous enormous robots like Grendizer, Getter Robo G, and Great Mazinger. The three protagonists of this anime film engage in combat with Dragosaurus, a monster that can regenerate. Despite being the most robust robots ever recorded in the history of anime, they find it difficult to combat this enormous terrible monstrosity.
Apart from the crossover, this film has traditional mecha action, with the heroes being beaten up until they figure out a plan to take down the bad guy. When it comes to the visual aspect, the action scenes are pretty smooth for a 1970s anime, yet they do have that retro feel. So, if you're looking for a gentle introduction to the entire "UFO Robo Grendizer" series, you may still watch this one.
 4: Cyborg 009 vs. Devilman (2015)
With "Devilman Crybaby" now available on Netflix, many anime lovers may be interested in this latest crossover. Characters from the bygone era of anime, Cyborg 009 and Devilman, are featured in this special three-episode OVA. Yet, the makers of this OVA only put it out when they thought they could deliver some top-notch action scenes that would live up to fans' expectations. Although this OVA's narrative is only average, the studio's dedication is evident in the sharp, clear visuals. While it makes no effort to reintroduce or further develop the characters from the two series, I wouldn't suggest this crossover to someone unfamiliar. However, this one is worth watching if you love the comics and the classic series.
5: Ravex in Tezuka World (2009)
The 18-minute short video "Ravex in Tezuka World" was included in an album by the Japanese band Ravex as a tribute to the legendary anime creator Osamu Tezuka. By featuring some of Tezuka's works, including "Black Jack" and "Astro Boy," it honours Osamu's "would-be" 80th birthday. This crossover will transport you back to the early days of the anime industry and demonstrate how Osamu Tezuka's contributions made anime what it is today. This crossover shows a "return" scenario in which the space boy wanders far into space before being saved by the three Ravex members. Then, "Space Jack" brings him back to life and gives him a brand-new name. Another brief but captivating adventure that comes next has many familiar faces, including Shinichi Osawa, The Princess Knight, and even Rock Holmes.
The movie has well-known characters and songs by famous musicians like BoA, Maki Goto, Anna Tsuchiya, Tohoshinki, and TRF. The younger anime watchers might find this crossover only somewhat interesting. Nonetheless, this one will bring back many fond memories for grownups who lived through the golden age of anime when it was just beginning to dominate the world of animation.
6: It's A Rumic World-Everyone's There For Rumiko Takahashi's 50th Anniversary
For Japanese viewers and fans of various kinds of anime and manga, notably the Shoujo series, Rumiko Takahashi is kind of a huge deal. She has produced some of the shows that were most influential to early audiences, including Urusei Yatsura, Inuyasha, and Ranma 1/2.
A unique, three-minute OVA was created by Shonen Sunday to honour her 50 years in the industry and feature some of her characters in their first-ever interactions.
7: Anime Tenchou x Touhou Project (2010)
The characters from "Anime Tenchou" and the "Touhou Project" family of doujin games are featured in "Anime Tenchou x Touhou Project," another one-episode film animated by ufotable. Although this crossover was warmly received by the few viewers who were allowed to see it, it can be a little challenging to locate due to its restricted release in Japan. Nevertheless, it merits a mention on this list due to its unique blending of characters with many traits.
 8: It's A Rumic World: 50th Anniversary Weekly Shonen Sunday (2008)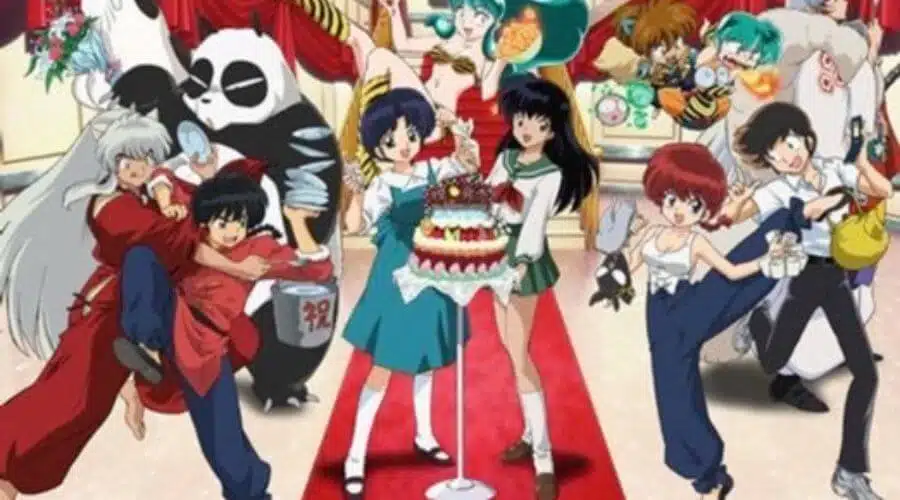 A timeless anime that many generations have loved is "Inuyasha." 2008 saw the creation of a crossover between some of Rumiko Takahashi's best works by Shounen Jump as a tribute to the mangaka who produced "Inuyasha." One episode of the one-episode short "It's A Rumic World: 50th Anniversary Weekly Shonen Sunday" unites the characters from "Urusei Yatsura," "Ranma 1/2," and "Inuyasha."
Even though the episode is brief, the few interactions the characters have are hysterically funny and noteworthy enough to make this a standout crossover. Inuyasha and Ranma seeing how similar they sound to one another, and even other characters like Kagome and Lum directly addressing the audience, are just a few examples of how this crossover stands out from the rest.
9: Tsubasa: Reservoir Chronicle (2005-2006)
The unique stand-alone series "Tsubasa: Reservoir Chronicle" is produced by Clamp Studio, the studio behind popular anime series including "Cardcaptor Sakura," "Magic Knight Rayearth," and "X/1999." It features characters from all of the studio's well-known productions. The anime can reimagine a refreshing fantasy drama using shared components from each universe.
Sakura, Princess of the Kingdom of Clow, is the main character and the plot's central character. After an occurrence causes her to lose all of her memories, Sakura must now rely on her childhood friend Syaoran to revive them and possibly preserve her soul. Generally, this anime was well received by both critics and fans, who applauded the plot that features all well-known characters.
10: Carnival Phantasm (2011-2012)
The developer of the well-known "Fate" visual novel series, Type-Moon, just so happened to have some spare cash. Making use of it, the company chose to develop a funny crossover that combines practically all of its well-known characters. The anime is curiously addictive and highly chaotic due to its large cast. When you watch your favourite characters from "Fate/Stay," "Tsukihime," and "Melty Blood" in circumstances that have nothing to do with what they experience in those respective works, you just get this bizarre sense of satisfaction. It's incredible how this anime takes characters from three quite serious series and gives the audience a completely different viewpoint on who they are.
11: Lupin III vs Detective Conan: The Movie (2013)
Lupin III vs. Detective Conan: The Movie is a cat-and-mouse battle between our favourite thief Lupin III and the adorable little genius detective of the anime world, Detective Conan, as you may guess from the title. Even if you haven't watched either of the two series, you'll still enjoy viewing this anime film because it features everything that every fan of the two series loves. The plot's primary premise is that Lupin III, an elusive thief, will face off against a renowned detective with a perfect track record of resolving every case.
The movie was unmistakably a hit when it earned over $6 million in just Japan in its first two days of release. Although many other anime movies with Detective Conan have achieved great success, this one outperformed them all and was a major success both critically and monetarily. Whether you are familiar with the two shows, you should take advantage of this crossover movie.
12: Fairy Tail x Rave (2013)
The manga creator of many hugely popular anime series, Hiro Hashima, has long been renowned for weaving connections between many of his distinctive creations. Fairy Tail and Rave Master, two of his best works, have long been suggested to be intricately related. Ultimately, in a one-episode OVA in 2013, the two series' notable characters got some much-needed screen time together. The epic battle between Natsu and Haru, two of our favourite shounen characters, takes place in "Fairy Tail x Rave," which has fantastic character casting and timing. Other great characters like Lucy, Elie, and Ezra are involved, which heightens the intrigue surrounding this OVA. If you've been a fan of Hiro Hashima's work, this one-episode crossover will be enough to transport you back in time.
13. Dream 9 Toriko & One Piece & Dragon Ball Z Super Collaboration Special (2013)
The "Dream 9 Toriko & One Piece & Dragon Ball Z Super Collaboration Special" is a dream come true for every shounen lover because it features three strong characters in anime history. As overwhelming as this may seem, many fans were concerned about whether a crossover of this magnitude would be successful. Remarkably, this miniseries was able to live up to and surpass everyone's expectations in every conceivable way. The anime shows these three fantastic characters vying against one another to obtain the Carat Sizzled Cow, a short piece of meat, rather than pursuing a more straightforward approach where Goku, Luffy, and Toriko could be working as a team toward a shared goal.
For obvious reasons, shounen fans, especially followers of the three characters featured in this crossover, strongly desire big battle sequences. This miniseries more than lives up to the expectations of all those shounen fans who are battle-hungry in terms of action choreography and quality. In addition to that, the second portion of it becomes even more intriguing as the three bands together fight a single shared foe. What else could you possibly want from an anime crossover?
14: Naruto X Yu-Gi-Oh!
Yup, this is an Anime crossover naruto, a Popular manga and anime based on the life of Yugi Mutuo, a young kid who enjoys playing video games and is frequently teased. A ghost enters Yugi's body after he succeeds in solving the Millennium Puzzle, an old problem from antiquity. The spirit ultimately reveals itself to be a long-forgotten pharaoh from ancient Egypt. 
The spirit always appeared when Yugi was in trouble, challenging anyone to a game of shadow wrestling if they put him or his allies at risk.
The KC Grand Prix was featured in episode 187 of the original Yu-Gi-Oh! Series, Let The Games Begin, part one. In this competition, competitors are picked at random, one by one, to choose their opponents. Naruto enters the world as the match goes on. Choji Akimichi, Shikamaru Nara, and Ino Yamanaka may all be spotted watching the game in the crowd.
So these are all the crossovers that we have gathered for you today. Let us know at the moment section which was your favourite and what Anime crossovers need to happen.